A big thanks to Astérix (early translation and pointing out the article), jeroemba (uploading image), and Vincent (full translation) for making this post possible.
Jo-Wilfried Tsonga was interviewed by Le Parisien this week. Part of the interview led into a discussion about Lance Armstrong and doping (image below).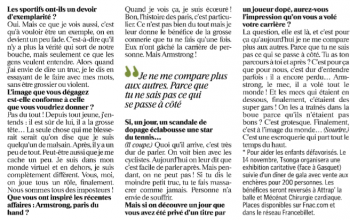 Here is a translation of the doping related Q&A:
Q : What were your thoughts on the recent scandals : Armstrong, handball betting?

Tsonga: When I see that, I'm sickened. Ok, the betting thing may be considered apart. This is not good at all but I give them the benefit of the big screw-up that you do only once. They did not waste the career of anybody. But Armstrong!

Q : If, one day, a doping scandal would involve a tennis star...

Tsonga: (He cuts.) Whatever is happening right now, it is very hard to speak. We see that with the cyclists. Now we're telling them that it's easy to speak afterwards. But before, you can't! If you say the tiniest little thing, you get butchered like crazy. Nobody wants to expose himself.

Q : But if one day we discover that you have been cheated of a title by a doped player, will you have the impression that your career will have been stolen?

Tsonga: : That is the question and that is why today I'm not comparing myself to others anymore. Because you never know what is going on elsewhere. You've got your own career and then what? That's why for us it's sometimes hard to hear: he lost again... Armstrong, this guy, he stole everybody! And the other cyclists behind him, after all, they were also extremely good! They got dragged in the mud because they were not good enough? That's laughable. All in all, it's a lot like the world himself... (Smile). The cheating always starts at the top.
Update #1:
Good piece by
Bill Gifford about doping post-Armstrong in The New Republic
: "...while tennis players are tested relatively infrequently, only a handful of times per year, a high-profile cyclist can count on dozens of tests each year, both in competition and out. More testing means more scandals, especially if other sports are still choosing the see-no-evil approach."
Update #2
:
The Independent has some interesting comments from Andy Murray about doping control in tennis
: "I think the out-of-competition stuff could probably get better...When we're in December, when people are training and setting their bases, I think it would be good to try and do more."I would be completely open to anyone to come and watch what I do in December and see the stuff I do, how I recover, how I wake up some mornings."
Also, Murray complains about the reduction of
Wayne Odesnik's HGH ban
.
It's interesting that Murray is now in favor of more out-of-competition testing. Back in 2009, he said
"These new rules are so draconian that it makes it almost impossible to live a normal life."
He also complained about getting
an in-competition test at this year's Australian Open
.
Update #3
: Tennis.com has picked up the
Andy Murray comments
. Meanwhile,
The Tennis Space has published Murray's comments in full
. And last, but not least,
BikePure is taking up the cause
.